CURRENT PACKAGE DEALS
Belize is our world – Let us share it with you!
Greetings from Belize!
Belize is a country you can visit and enjoy! Who can resist its sub-tropical climate; sandy beaches on some 200 palm-striated islands; preserved virgin jungles populated with over 500 species of birds, exotic flora and fauna; crystal-clear waters teeming with countless species of fish and marine life? Equally irresistible are the impressive temple legacies of the Mayan Civilization and numerous nature, archaeological, forest and marine reserves, national parks and wildlife sanctuaries all of which offer visitors a wide array of choices.
This Western Caribbean nation lies in the heart of Central America, sharing its Northern border with Mexico and its West and Southern borders with Guatemala. To the East, the Caribbean Sea houses the 176-mile Barrier Reef with brilliantly-hued coral and marine life. Belize's Great Barrier Reef, the largest in the Western Hemisphere, the underwater wonder of the Great Blue Hole and three of the Caribbean's four coral atoll islands lure many adventurous snorkelers, divers, marine biologists and fishing enthusiasts.
S & L TRAVEL and TOURS specializes in sharing this magical land through custom-designed, special-interest and adventure vacations (Diving, Fishing, Mayan Ruins, Jungle and Nature Tours, Birding, etc.) within Belize, and in neighboring Guatemala (Tikal) and Mexico. In addition to this, we make hotel reservations; arrange ground transfers, car rentals and air travel within the country for tourists and business people alike. We can also assist you in planning an all inclusive package tour (F.I.T.).
Our website is designed to give you a flavor of what Belize has to offer and the types of tours that we can provide.
We are award-winning Belizean travel specialists operating in Belize for over 40 years.
"Belize is our world – Let us share it with you!"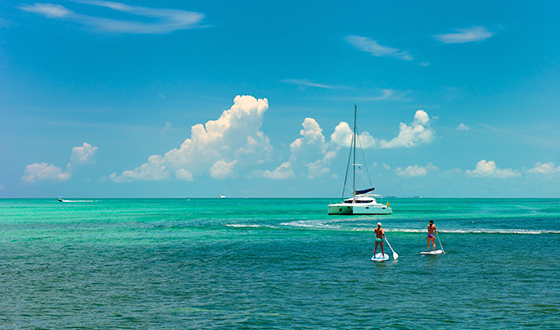 Members of: