S&L Travel and Tours Company started in the 1950's when Lascelle Tillett was a cab driver. He took tourists, who visited Belize, sightseeing. The term tour guide was not used in Belize, because tourism had not yet grown into the industry it is today.
In the late 1970's with his wife Sarita Tillett, he started to do itineraries which included tour packages and hotel reservations in their home. They both did guided tours for their clients.
.In the early 1990's, as they watched the tourism industry grow, they decided that it was time for them to expand their horizons. They moved the business to an office in the heart of downtown Belize City. On February 1, 1991, S&L Travel and Tours was opened on 91 North Front Street (where the office is still located today). S&L Travel specializes in birding and natural history tours.
.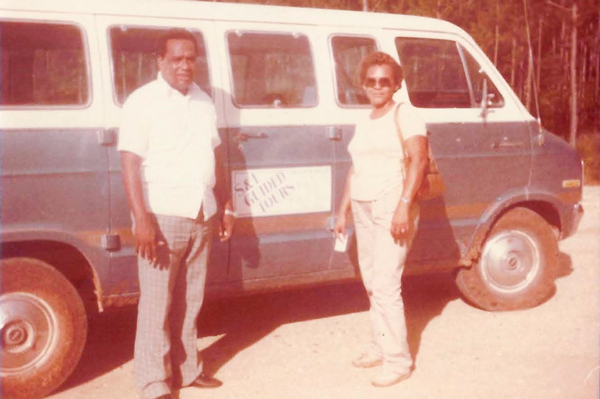 S&L Travel and Tours has since then attended countless trade shows promoting Belize. Some notable trade shows which S&L attended are WTM in London, ITB in Germany and FITUR in Spain. The company has also attended trade shows in Guatemala, Honduras, Mexico, El Salvador and Costa Rica.
The Belize Tourism Board awarded S&L Travel and Tours with the Tour Operator of the Year award in 1998. In 2007, Lascelle Tillett received the National Tourism Award for Lifetime Achievement in the Tourism Industry. Mr. Tillett has also been featured in several international television documentary shows for example 'The Lifestyles of the Rich and Famous'.
After 35 years and being one of the pioneers in the tourism industry, S&L Travel and Tours continues to provide excellent tourism packages and overall customer service and satisfaction.
2018 January
We are incredibly appreciative of the friendly, punctual and amazing service. It started with a greeting at the airport and transfer to our hotel. Then we had an amazing day trip to Tikal. The day was perfect. Tickets, crossing the border, local guides, and a great driver just made the day perfect.
Thank you so much for a great first trip to Belize!
Allie and Will
S & L travel created an amazing adventure for us in Belize! Elvira did a wonderful job combining quite a few requests for our stay. Every guide and driver was great ! They all had a deep knowledge of Belize, it's history, culture, and natural wonders. Each place that we stayed had it's own wonderful ambiance with great staff.
I could not imagine a better experience and would highly recommend S & L travel to anyone travelling to Belize! We can't wait to go back!
Thank you again Elvira!
Jeff and Adrena
Jeffrey Deem and Adrena Duval
We enjoyed our visit to Belize and our foray into Guatemala to see Tikal. We much appreciated the assistance of S&L Travel and Tours. Our trip met our expectations in terms of desired itinerary, pleasant hotel accommodations and high quality guides and drivers. Our guides and drivers were pleasant and informative. They were accommodating and made us feel safe and welcome. We much enjoyed our visits to Mayan archaeological sites and also liked our visit to the Belize Zoo. We found the lunches provided to us during the course of our travels to be tasty and more than enough to fill us up. All the logistics of our trip worked out well. We had a balance of seeing the sights and having relax time. We offer our thanks to E&L for assisting us to have a great trip to Central America.
Paul and Elizabeth Chmelik
January 2017
Dear Nayla,
Thank you very much for all of your hard working on my delegation.
I have a short talked with my boss, he gave highly praise to your works,your guides arranged for us,and your company.
You did bring my delegation a great impression,and also a good experience of the journey.
Thank you so much,and please convey my gratitude to Mr.& Mrs Tillett.
King Regards
I am not sure that my words can express the appreciation I have for the work that Nayla did on putting together our family vacation to Belize this past May/June! She did a great job, took all of my considerations, and provided an amazingly adventurous, once in a lifetime trip.
Belize is beautiful and we enjoyed every minute of our 11 day trip. I'm not sure what was my favorite part: Lamania, Caracol, Rio on Pools, Tikal, Jaguar Paw or Placencia because each stop and tour offered something amazing and breathtaking!
When it came time to leave we were actually sad because with as much as we did, I felt that I was not finished enjoying the country. I hope to return one day and when I do, I'll reach out to you again for your expertise.
Thank you also to Lascelle for driving us around as much as you did. It was nice meeting you and Sarita. Also, I want to comment on how great each of the tour guides were. I wish I could remember each of their names because they all deserve recognition but I can only recall Phillip, who took us to Caracol and Rio on Pools, and Santiago, who was most entertaining on our horseback riding adventure. Just wanted to make sure you knew that each one was helpful, welcoming, informative and very polite.
Cheers…